GLORI Foundation hosts Committee on Bioethics (IRB) whose members are prominent Kyrgyz-based researchers, medical practitioners and civil activists. The IRB's identifiers that can be verified at https://ohrp.cit.nih.gov, are as following:
IORG0007059
IRB00008447
FWA00017839
---
Researchers involved in or managing a behavioral study or a sociological survey in Kyrgyzstan, may apply to the IRB at globalresearchinstitute.irb@gmail.com or through a convenient contact form below, for having their protocols reviewed by our experts.
---
What is Research?
Research can be described as an investigation of an issue to learn more about it. It is usually funded by the government, private foundations, and/or drug companies with the hope that the new information will be useful to the public and to other researchers.
Some research can only be done with human participants. GLORI Foundation's IRB can help researchers who focus on issues related to human behavior or learning and others investigate complex social issues.
What is the Institutional Review Board (IRB)?
Research in which people will be asked to participate cannot begin until it has been approved by an Institutional Review Board (IRB). This group of people often includes doctors, social workers, nurses, scientists, and people from the local community. They all work together to make sure that human research is well planned and ethical.
The IRB decides, when approving studies, that it is reasonable to ask people whether they want to be involved. Both before and during the research study, the IRB serves to protect the rights and welfare of research participants. It makes sure that any risks in the research study are as small as possible. The IRB also reviews each study while it is going on to make sure volunteers continue to be protected.
Human Subjects Protection Training Program
Before a protocol will be approved by a GLORI Foundation's IRB, the PI must review the Human Subjects Protection Training course and receive a passing score of 80 or greater on the relevant exams.  Research personnel other than the PI who have contact with subjects, contact with confidential study data, or are otherwise engaged in the research (i.e., key personnel) must also complete training in the protection of human subjects prior to participation in the research.
The training focuses on overviewing history and ethical principles, basic IRB regulations and review process, informed consent, conflict of interest, risks and benefits, privacy and confidentiality and other topics that it is important to know for conducting ethical research where the subjects are sufficiently protected. All trainees will have to also read the Belmont Report and manage a short quiz to demonstrate sufficient level of understanding of the report's framework.
GLORI Foundation's IRB can facilitate such training in English or Russian if PIs apply for our help. We do our best to assist researchers in regulatory compliance — for instance, we are glad to offer numerous guides and resources developed at Columbia University and WHO to staying compliant while conducting research.
---
Here you can download the English version of the Belmont Report: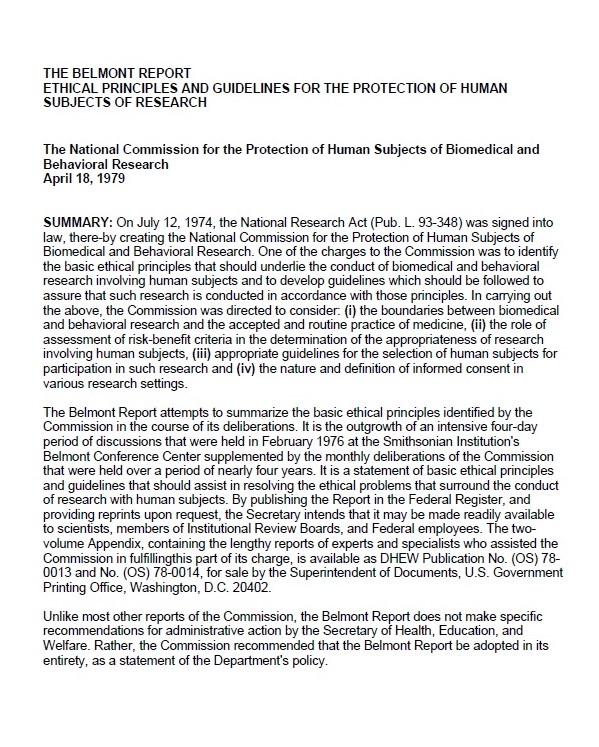 ---
The Clinical Research Handbook designed at Columbia University IRB, is available here: