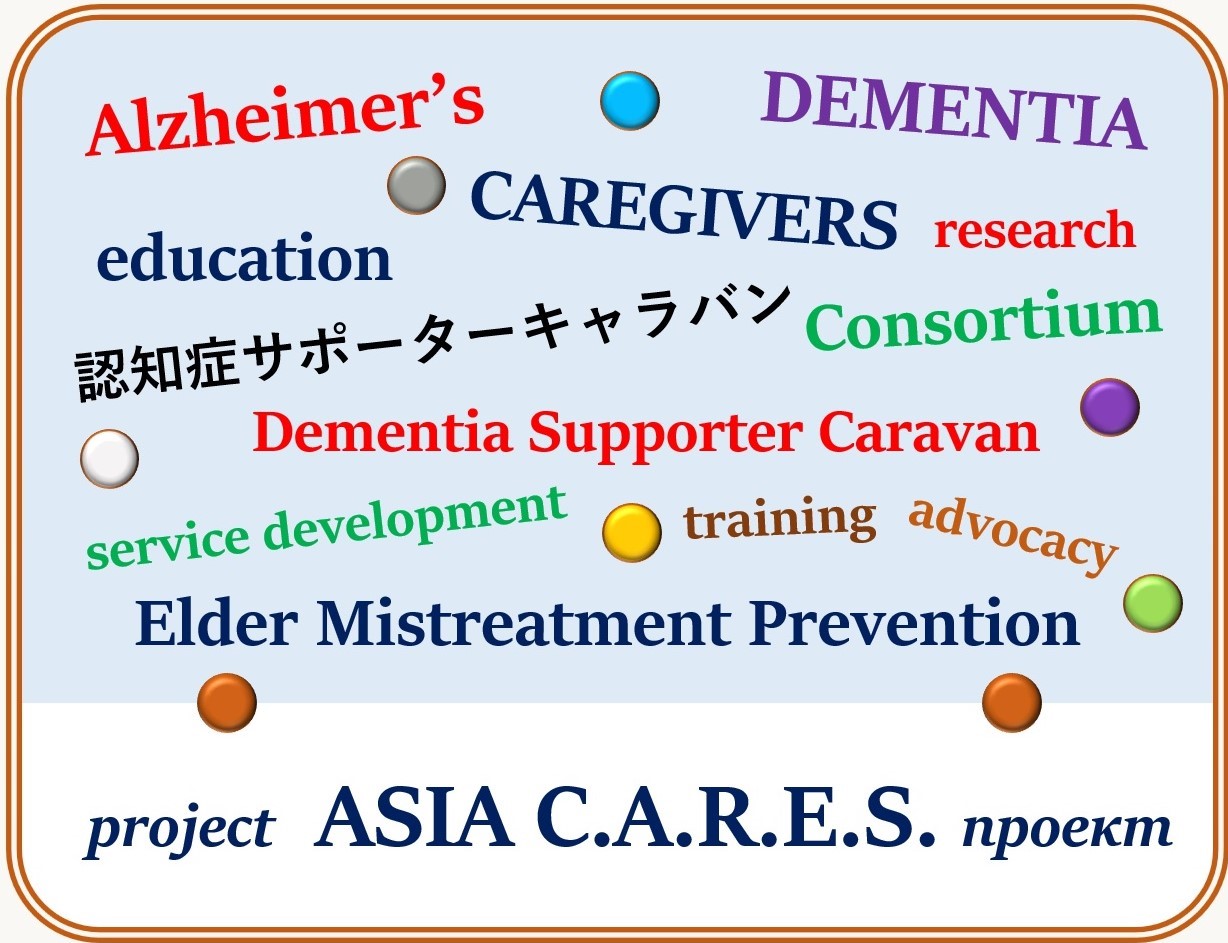 The global population is aging and greater numbers are developing and living with Alzheimer's Disease and other dementia (Kaneda, 2006; ADI, 2015; WPA 2015; WHO, 2011, UN, 2015). This trend is also happening in Central Asia countries. An aging population combined with an increased number with Alzheimer's and other dementia will put additional pressure on the health and social service systems, and on family caregivers. GLORI Foundation collaboratively with Counterpart Sheriktesh Public Association and other multiple partners work to implement interventions, programs, and policy strategies to meet and prepare for this demand is now. Our goal is to prepare for the aging population and increased numbers with Alzheimer's Disease and other dementia, is to support family caregivers.
We would like to refer to the WHO guidelines and definitions while further describing dementia and related issues.
The majority of elderly in Central Asia are cared for at home by family member caregivers, most often women. This ASIA C.A.R.E.S. project focuses on the caregivers of the sub-set of elderly with Alzheimer's Disease and other dementia. There is substantial research on caregivers including the negative impact on caregiver's own physical and mental health. Increased stress, depression, lack of self-care, isolation and limited social support, and financial pressures, are all reported. The impact is not only on the caregiver and elderly under care, but the entire family unit. When the elder has Alzheimer's Disease there are additional challenges for the caregiver including lack of information about the disease progression and strategies to manage the communication and behavior change. Stress is also identified as a risk factor for elder abuse (WHO, 2002) and caregiver interventions are recommended as prevention of elder abuse (Pillemer et al, 2016).
There is substantial evidence-based research focused on caregivers and successful intervention components. Outcomes for these studies include increased self-care, improved physical health, reduced levels of depression, reduced perception of situation burden, reduced stress symptoms, skill-building for caring for elderly, and improved social support.
A collaboration of partners in Kyrgyzstan including local and international NGOs, medical and mental health practitioners, is working to develop and pilot an evidence-based intervention for caregiver support. The ASIA C.A.R.E.S. – Caregiver education & training, Advocacy, Research, Elder mistreatment prevention, and Services development – addresses the multi-level issues involved in topic area of caregivers, elderly, and mental health. ASIA C.A.R.E.S. strategies proposed are focused on the individual level, community level, and society level.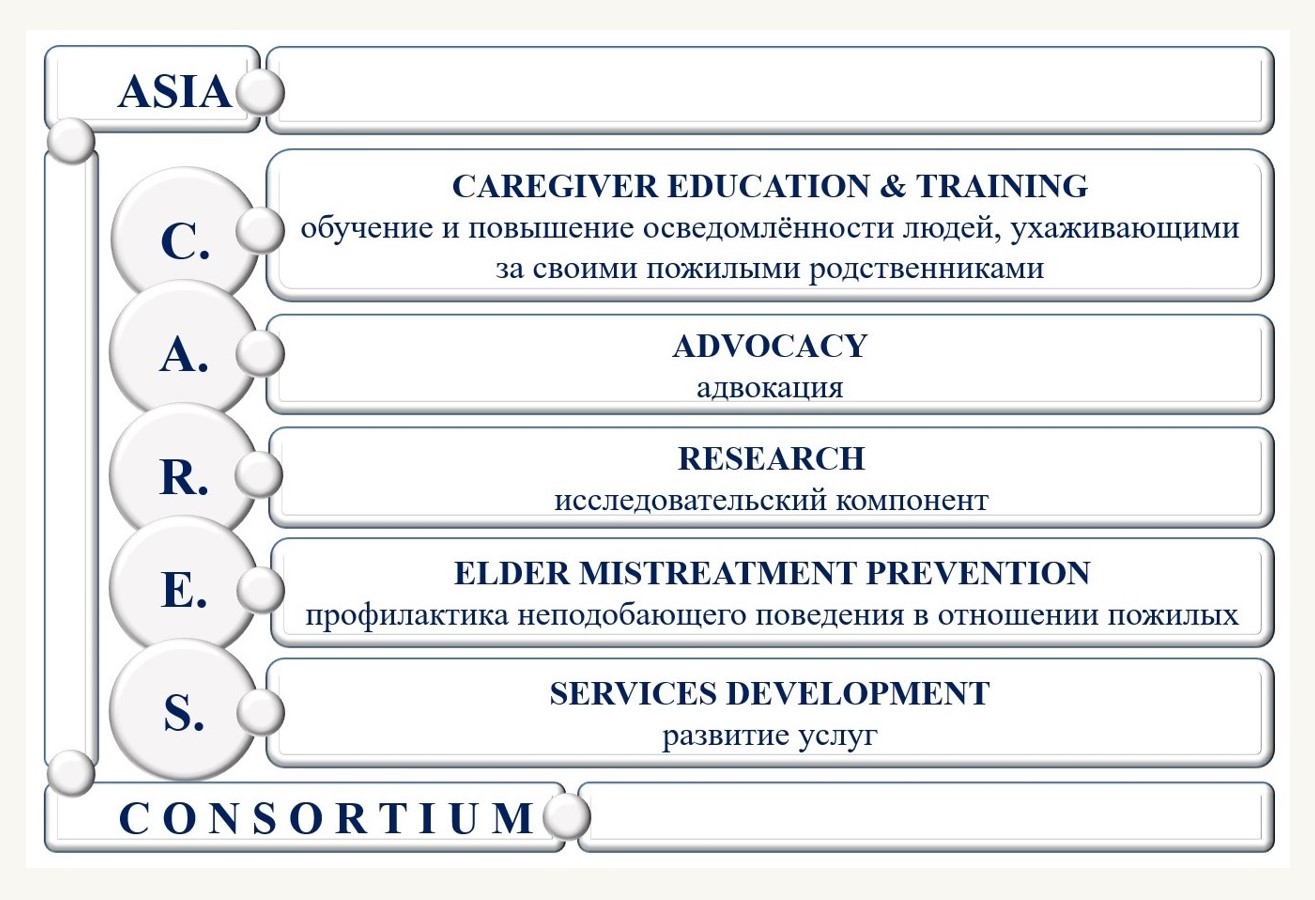 A needs assessment was conducted to understand needs and constraints of caregivers for older people in Kyrgyzstan and more information about the elderly with Alzheimer's Disease and other dementia. Before, this information was not known. The needs assessment also served to inform the development of the intervention. The intervention is supposed to be a unique in the design to address the specific context in Kyrgyzstan and will also incorporate the applicable evidence-based strategies and interventions. The intervention will be piloted and packaged for further dissemination. This is an innovative and novel program as currently there are no intervention programs for caregivers or for elderly with mental health issues in the Central Asia region.
Critical to the success of the project is the broad-based collaboration of partners committed to this project. A coalition of partners including GLORI Foundation, Counterpart Sheriktesh Public Association, Help Age International in Kyrgyzstan, Crisis Centers Association, the Kyrgyz Psychiatrist Association, the Kyrgyz Medical Academy Department of Psychiatry headed by Dr. Tatiana Galako, Psychology Department at the American University of Central Asia headed by Dr Elena Molchanova, and research centers in USA, Kazakhstan, Tajikistan and Uzbekistan, have joined forces for this initiative. As the President and founder of the Kyrgyz Forum of Women's NGOs, Nurgul Djanaeva, recently mentioned, majority of the caregivers in Kyrgyzstan, i.e. potential project beneficiaries, are women. The coalition is a multidisciplinary Working Group to design and lead the ASIA C.A.R.E.S. project initiated by the GLORI Foundation and Counterpart Sheriktesh Public Association.
---
---
The ASIA C.A.R.E.S. project includes collaboration with international experts and researchers including graduate fellows of the Social Work Scholarship Program of the Open Society Foundations trained at Columbia University in the City of New York and Washington University in St Louis.
The ASIA C.A.R.E.S. strategic plan includes the following initiatives:
advancing collaboration with the Caravan Mate Team in Japan;
establishing a local branch of an Alzheimer's association;
advocacy for policy changes;
promoting positive language when reporting on elderly's Alzheimer's Disease and mental illness through media training program; and
raising awareness on elder abuse.
These issues are emerging and are gaining increased attention in Central Asia. Currently the situation in Kyrgyzstan – for example, there is no single department in the existing mental health system focused solely on the needs of the elderly, and there are very limited residential nursing/group homes or day care programs for elderly – means that it will be caregivers' themselves and hopefully a future association that will solidify their voices and advocate for improved change. The advocacy will also include enhancing the elderly's access to medication and overall, will follow the framework of the Strategy of Health Development in Kyrgyz Republic through 2030 that prioritizes client-oriented approach and suggests steps for community involvement in developing the health services.
Questions & Answers as informed by the Rapid Situational Analysis applied by GLORI Foundation in March 2018: