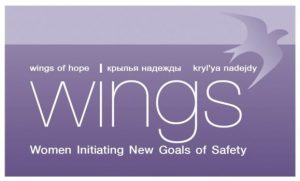 The WINGS intervention (Women Initiating New Goals for Safety) was developed to address several gaps in the continuum of interventions employed to prevent and reduce GBV among women who use drugs and / or are engaged in sex work. WINGS is based on a Screening, Brief Intervention, and Referral to Treatment (SBIRT) model of GBV prevention. Its core components include psycho-education on IPV/GBV, an IPV/GBV victimization screening tool, as well as social support enhancement, service linkage, safety planning, goal setting, and gender-specific HIV testing and counseling.
The WINGS model was designed at the Columbia University Social Intervention Group to be delivered in harm reduction settings to reach substance-using women and female sex workers at risk for GBV. WINGS was originally tested among 191 substance-using women in probation settings in the US. Both a computerized and facilitator-run version of the intervention identified equally high rates of having experienced any physical and sexual IPV in the past year (47% for both conditions), and significantly reduced drug use at the 3-month follow-up and increased use of IPV services. These findings showed its potential to identify and address IPV and GBV among active substance-using women in resource constrained harm reduction settings.
In Kyrgyzstan, the Global Research Institute (GLORI) Foundation, in collaboration with the research team at the Columbia University and six partner NGOs successfully piloted the adapted WINGS of Hope intervention in 2013, 2014 and 2016 with 213 female drug users and women from vulnerable groups. Since national surveys suggest that only 10% of women with substance abuse problems ever access treatment services, the project was piloted at community-based NGOs serving women in Osh and Bishkek. Baseline and follow-up surveys assessed the intervention's effect on GBV victimization outcomes, services received, and drug / alcohol use.
The WINGS of Hope project primarily focused on providing technical assistance to local partner NGOs to identify women at risk of gender-based violence (GBV) and intimate partner violence (IPV). The project team also aimed at improving women's ability to protect themselves and increasing their access to medical, legal and social services to address GBV.
Systematic collection of surveillance data on incidence of GBV to inform anti-GBV advocacy efforts was integral to this multi-level project. Through WINGS of Hope, high rates of GBV were identified, including physical and sexual IPV, physical and sexual GBV, including abuse classified as "severe" or "injurious", and severe psychological abuse. The most frequently identified perpetrators of GBV (excluding intimate partners) were police. At the 3-month follow-up of the initial pilot project, participants experienced significantly fewer verbal IPV incidents, physical IPV incidents and physical GBV incidents than they had experienced at baseline. Participants also reported significant reductions in illicit and injection drug use, ability to create and maintain safer sex trading context, as well as increased access to GBV-related services.
Based on initial findings, and during subsequent years, an important part of the project included training local police staff in Osh and Bishkek cities on laws and policies aimed at protecting vulnerable women as well as sharing collected statistics on IPV and GBV collected throughout the project.
Most women completed the gender-specific HIV testing and were linked to HIV care. The high rates of participation, attendance, and retention, as well as significant reductions in GBV victimization suggest the feasibility, acceptability and potential of this brief intervention to redress the epidemic of GBV among substance-using women and female sex workers. The project team also hope to disseminate it to non-IDU and non-sex-work populations that are stigmatized and vulnerable, like migrants or people with TB, if partners find it feasible, support adaptation, and take leading role in its further piloting.
The project was implemented by Global Research Institute (GLORI), with grant support from the Public Health program of Soros Foundation – Kyrgyzstan (www.soros.kg).
---
Download the English version of the article with WINGS of Hope Year One overview and findings published in the Drug and Alcohol Review journal in 2017: